Well hey there Fri-YAY, it's so nice to see you!! Anyone else greeting Friday with big open arms like I am? We don't have anything crazy planned for the next few days, but I'm most excited because our epic rain-filled week is supposed to come to an end late tomorrow night! Thank goodness! Seriously, record breaking rainfall has been going down in Arkansas since Wednesday and somehow the clouds STILL have rain in them… I'm not even quite sure how that's possible, but our streets and their major potholes can only take so much at this point. Plus, this girl needs some sunshine ASAP!
Besides Fri-YAY, guess what else today is? It's February Runfessions time! If you're new to the blog, today's the day when we, runners, get to lay it all out there and runfess our hearts out while we share the good, the bad and the ugly from the past month. I'm linking up with my fellow running bloggers to runfess it ALL and you better believe I have plenty to share…(per the usual).
Here we go!
I runfess….
It's no surprise that this rain has totally stolen any and all motivation this week to get runs in. I went into the week with high hopes of knocking out some serious miles and really only got one good day in. Somehow, Netflix-ing and staying warm and dry has sounded 10x better than toughing it out in the rain. I solemnly swear to toughen up one of these days… I did make it out for a 6AM spin class one day though which was totally a win in my book! Not to mention, that 9 miler day we had earlier in the week! 😉
I runfess….
We've only used our gym memberships twice in 2018 so far. I should probably jump on that here soon…Turns out going full speed into getting a house renovated and ready for sale drains any and all extra time and even more than you expect no matter how many times you've done it before…I'm pretty excited to finally get some down time now that we're finished with the renovation process…Plus a vacation is totally calling our names for sure! We have without a doubt earned it this time, that's for sure! 🙂 But, I'm actually planning on scheduling in my workouts this week to my calendar because that's when I see my best weeks with the most progress.
I runfess….
I have been totally slacking in the hydrating department. I'm usually so on top of my game when it comes to getting in water, but here lately I've just totally flopped on it! I plan on changing that today with a water challenge of trying to get in 80 ounces of water before the day is up! "I think I can, I think I can…"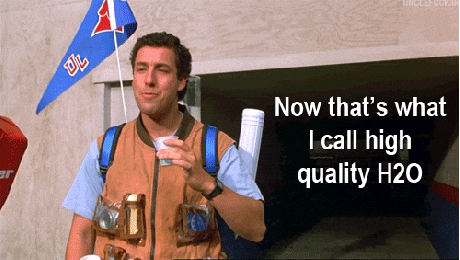 I runfess…
I'm thinking of cheating on my Brooks running shoes next new shoe-go around. GASP! I've been a loyal Brooks Pureflow girl for a VERY long time, but I'm in the market for some new running shoes and I'm leaning towards the Hoka's. I've also heard some really great things about the new Nike Reacts too so maybe they'll be in the running? I never thought I'd consider running in Nike's but they sound pretty awesome!
I runfess…
I've totally been slacking on my podcasts lately! I don't know what's happened but I've totally fallen off the bandwagon with listening in on my podcasts each day! I need to get back on board STAT! They're not only good for some serious personal development, but they just give me so much extra motivation just when I need it most!
————————
Okay you guys, I feel much better! Runfessions sure do feel great to get off your chest, don't they? It's your turn!! What do you have to runfess this month? Anything weighing on you? Here's to a new month just around the corner and new goals!
Have a fabulous Friday!! Do something extra fun to celebrate this weeks accomplishments, K?!!
Questions for YOU today: (Comment below with your thoughts!)
Do you have any races scheduled for March? If yes, which ones and what distance?
How much water do you usually get in each day? Do you try to reach a certain amount every day?
What's your favorite running shoe?
I'm linking up with Marcia at Marcia's Healthy Slice for Runfessions and Rachel at Running on Happy & Fairytales & Fitness for Friday 5 2.0!