Hey guys! It's the last weekend of 2017, can you believe it? It's also my very last review of the year and I saved a pretty great one for the last, I must say. For some reason, this week just feels so strange to me. I guess it's because it's in between holidays and some people are off work but still busy with the hustle & bustle of wrapping up the year for the New Year holiday this weekend! I can't seem to keep my days straight for the life of me! Good thing we get a fresh start next week, right? 😉
Alright, so on the menu for today's review is the "Silver Hills Sprouted Power Bread + Wild Friends Chocolate Coconut Peanut Butter"! Double whammy of a review, but they go together so well and I figured why not do both?
If you're new around the blog, each weekend I like to share my thoughts on a new-to-me product or snack! They're all my very own 100% authentic opinions, with no sponsorship whatsoever! These brand aren't paying me $2393257 to review their products either! I just simply want to share my thoughts and experiences with YOU in case you'd like to try it too, before you spend your hard earned money. I always love reading reviews myself on snacks and things, so I thought each weekend I could do the same for you and share my own thoughts!
So, today I've got quite the treat for you! I'm a HUGE fan of different nut butters to top things with (or by the spoonful) and I MAY be the only person on the planet that hadn't tried the "Wild Friends" brand before! That is, until this week of course! I even follow them on Instagram because the story behind them is probably my favorite part! The makers of "Wild Friends" are two young women that have been best friends for years and even were roommates in college which is where their sort started! One day, they decided to start making nut butters out of their dorm room and somehow, someway– they've developed themselves into this amazingly successful foodie brand that is known all over! While I had seen and heard about them so many times and seen their butters in tons of grocery stores, I had never grabbed any for myself!
I love their story so much because my college roommate, Gracie, (who I've known since kindergarten and STILL call my best friend today) lived off of peanut butter and graham crackers as a snack our entire freshman year! It was a weekly staple on our grocery run and still brings back the best of memories of our deep conversations over our peanut butter snacks with Gilmore Girls on in the background.
Now that we've taken that trip down memory lane, this chocolate coconut peanut butter called my name when I was saw it at Natural Grocers the other day! The small list of ingredients, (which is my FAVORITE!) high amount of protein and the low sugar content were all super impressive selling points to me! Needless to say, that packet hopped into my basket and before I knew it, it was time to check out! While I was there, I also grabbed something to put my peanut butter on! I am ALWAYS on the hunt for a good bread that has simple ingredients. Have you ever taken the time to glance at the ingredient list on the bread in your pantry? Yeah….they're usually loaded full of all kinds of crazy things that I just would rather avoid if I can! Insert: Silver Hills Sprouted Power Bread! I was so excited when I saw the list of ingredients and instantly added it to my basket! Only 8 ingredients, including sprouted whole grains and other vegan and dairy free ingredients had me sold! For less than $4 for the bread and less than $2.00 for the nut butter, I had quite the snack waiting for me once I got home and unpacked my groceries!
The Silver Hills philosophy on their website totally grabbed me too, just like Wild Friends!
I love to have toast for breakfast, sometimes lunch and it's always a good post-workout snack! Add the chocolate coconut peanut butter to it and it's the perfect semi-sweet snack! I absolutely loved this combination and will definitely be buying both of these again! I'm excited to try out the different flavors of the nut butter especially! The Sugar Cookie Peanut Butter is calling my name next! 😉 The bread was the perfect texture, not overly soft but definitely a lot softer than some of the other breads I've tried with simple ingredients! I find that a lot of them are more tough than I'd like, but not this Silver Hills brand. It was very fresh and delicious!
Overall, definite WIN-Win combination and I'd highly suggest both of these snacks!
Alright, now that we've knocked out this weekend's review with a bang–It's time for a quick little word of encouragement with my favorite Weekend Words to Live By for this LAST weekend of 2017!
I hope that you guys have an amazing weekend celebrating all of the past memories of 2017! When you look back on the past 12 months, I hope you lived, learned and loved more than ever and soaked up every last drop! Here's to closing out 2017 on an eternally grateful note! Onto the next, 2018! As always, I want to thank you for taking the time to stop by my little corner of the internet today (and every day!), as I'm always ALWAYS grateful for our connections and community we get to have here. When I look forward to 2018, I can't wait to see where the next 12 months will take me and I can't wait to take you alongside me the entire way!
Have a fabulous New Years weekend!! Enjoy!!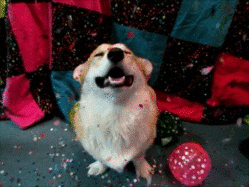 Questions for YOU today: (Comment below with your thoughts!)
What is your favorite snack right now?
Are you a coconut fan?
What is one thing you have on your weekend celebration to-do list? Any New Years traditions?